We were all tired after our previous day's excursion into Goose Lake so we decided to head back to our sled lap zone off Henderson mountain. We ventured further along the ridge to the north, trading a longer sled shuttle for longer, more open shots.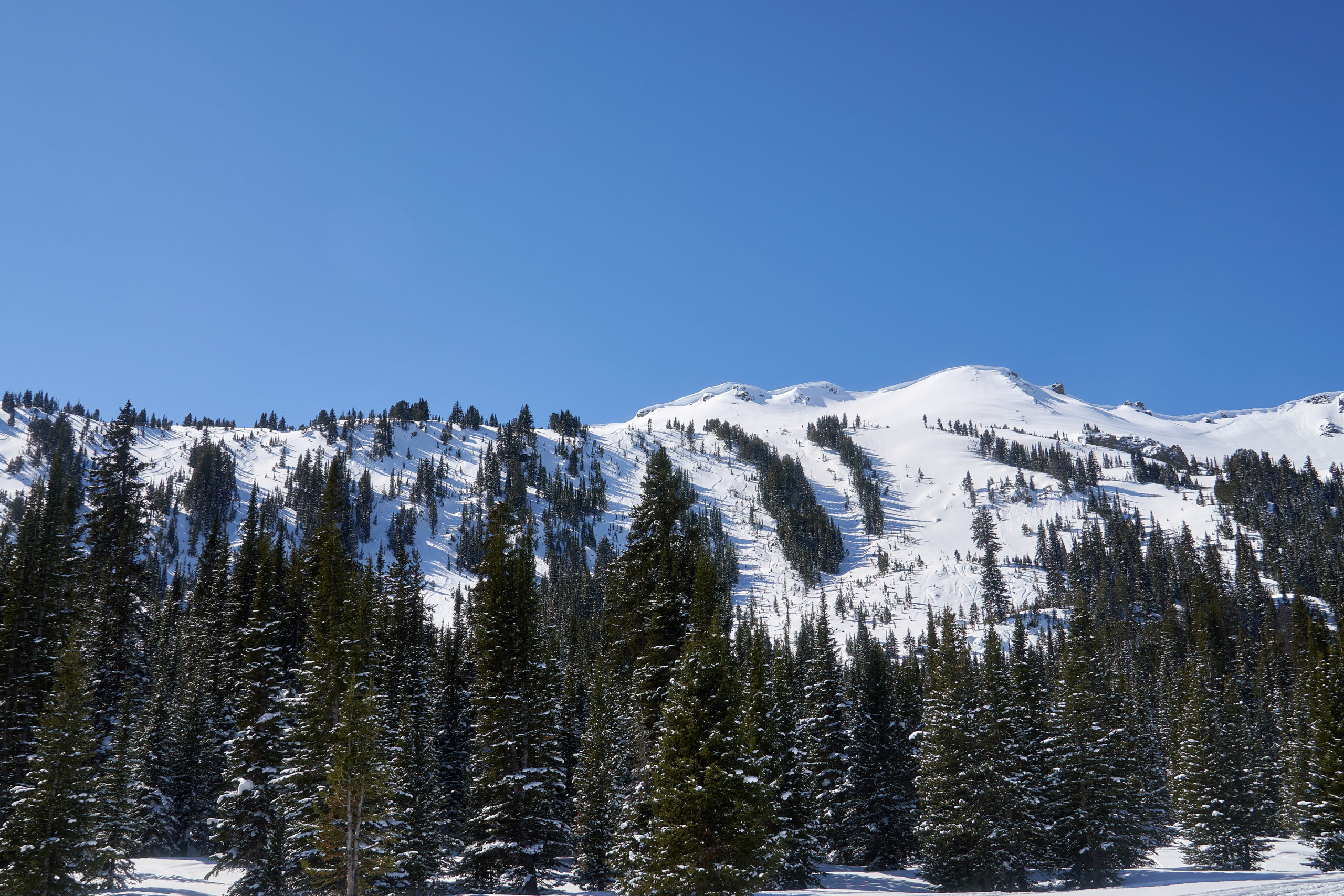 We must have done something to please the weather gods because it was another perfect cloudless day and the snow was still as fresh and light as the day it fell. A real highlight was watching Garrett and Prescott hit the big cliff we had all been eyeing up. Garrett went first, and, in classic Garrett fashion, approached the lip and then pointed it without a moments hesitation, clearing some small trees and stomping the landing. Prescott went next, and after a brief pause to eye up the takeoff, sent it off the biggest part of the cliff.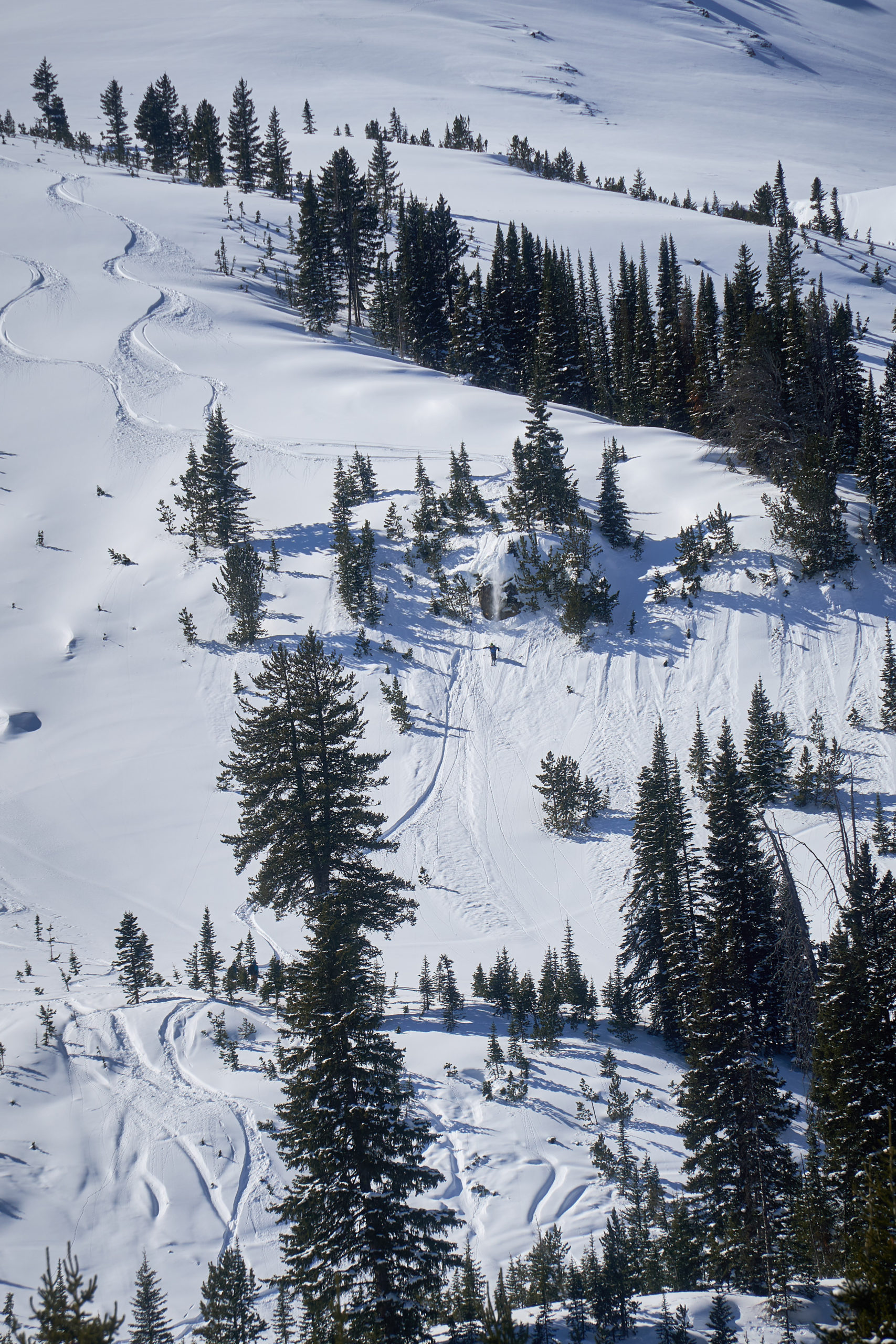 After a couple of laps apiece the sleds started to run low on gas so we decided to skin up the valley a bit further for some more skiing. Coming into a clearing, we spotted the perfect place for a jump with a long run in, flat lip and steep landing. Most people were thrilled at having an excuse not to do any more skinning so most of the group set about building while Cam, Brett, Nate and I continued up for one more lap of skiing. We stopped at a cool abandoned mine a couple hundred feet below Henderson Mountain and enjoyed some steep tree skiing back down to our friends.
By the time we got back down the jump was built and initial test flights were taking place. The jump was built perfectly and one after another the group hucked into the landing below. Mike almost landed a double backflip, Garrett worked on his nose butters, Prescott snapped his boot trying a 720, Nate almost snapped his neck trying a backflip, Ellen messed up her heel also trying a backflip, I tried not to calculate just how far we were from the nearest hospital; all the ingredients of a classic backcountry booter session. Eventually, with daylight fading and the landing full of human-size craters, we decided to call it a day and we hobbled back to the sleds eager for a warm dinner and a long soak in the hot tub.
In my experience, the best trips and adventures all have some moment or experience that ties the trip together, that stands out, a cherry-on-top that helps define my memory of the trip. Despite the days of perfect weather and dreamy powder, I couldn't help but feel as if I hadn't quite found that experience yet. For the last couple of days I had tried to convince others to take advantage of the amazing combination of perfect stability and soft snow we had been blessed with and ski a larger line with me, but everyone was worn out (reasonably so) from the long days of skiing and the late nights of drinking and I couldn't get any real interest.
The main line I had my eye on was Abiathar's North Couloir. Splitting the north face of Abiathar, this striking line is visible on the drive into town and I had ogled at it during several of our tours. While the couloir sadly cliffs-out about 3/4 of the way up the face (it would surely be one of the most coveted lines in the country if it was possible to ski from the summit), it is steep, direct, and flanked by dark intimidating cliffs on either side. It's the kind of line that begs to be skied and requires rock solid trust in the snowpack to feel safe doing so; I couldn't understand why no one else was jumping at the chance to ski it. So with only one day of skiing left, I channeled my best Bernie Sanders and once again asked if anyone wanted to ski Abiathar with me. Luckily my persistence paid off and Brett, Joe, and Cam agreed to go check it out with me.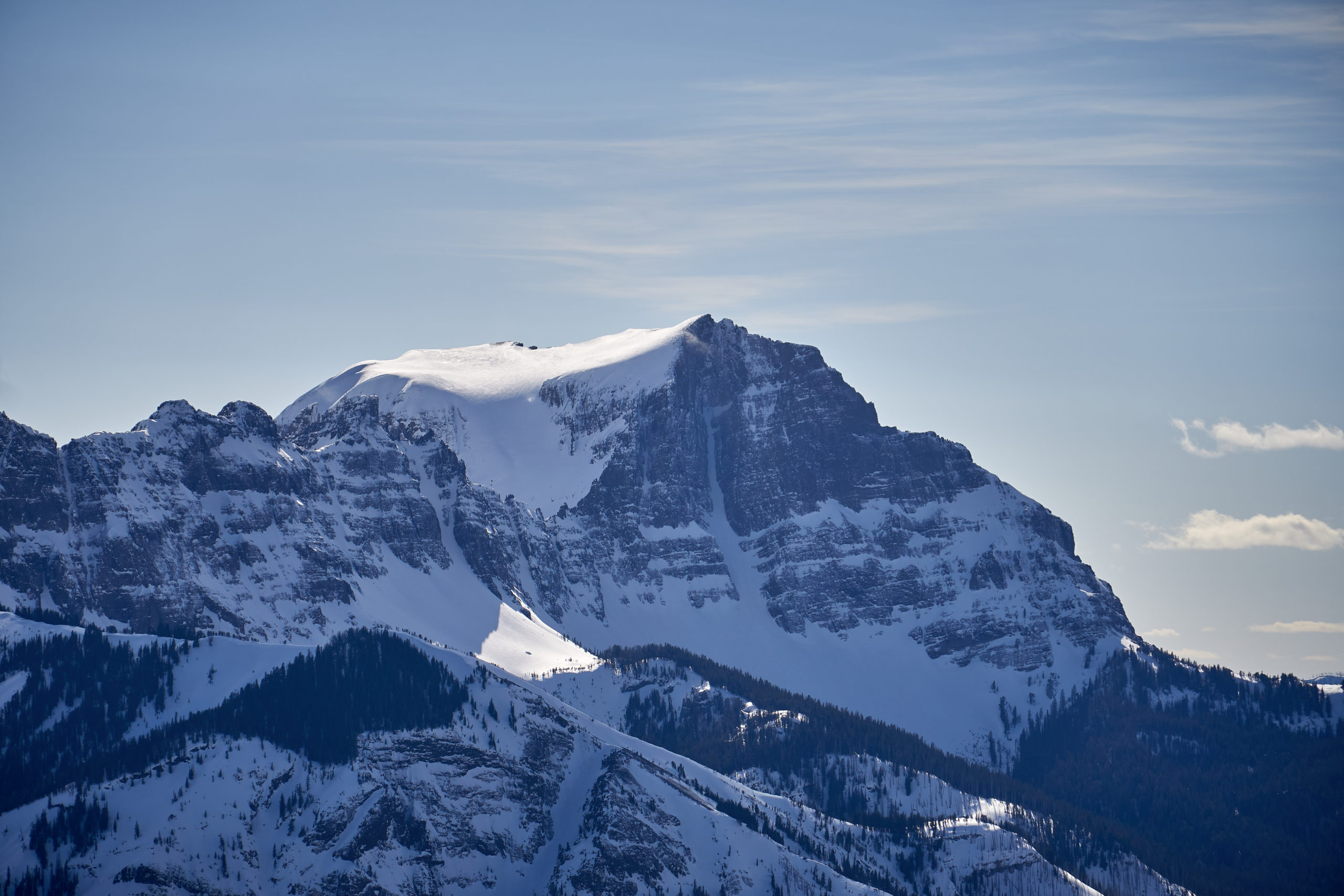 We set off from the trailhead around 10am the next morning. The first three miles of the approach wind up through thick forest and offer almost no views of the peak. About half a mile from the couloir we popped out into an avy-path/stream bed and got our first good look at the sheer North Face. As often happens in the mountains, it was difficult to judge scale so we were all taken aback when we rounded the corner and the couloir came into view. We could see three people booting up the line and they were so, so much smaller than we had expected. The ant-like figures slowly trudged up the slope, disappearing from view into the cleft of the mountain.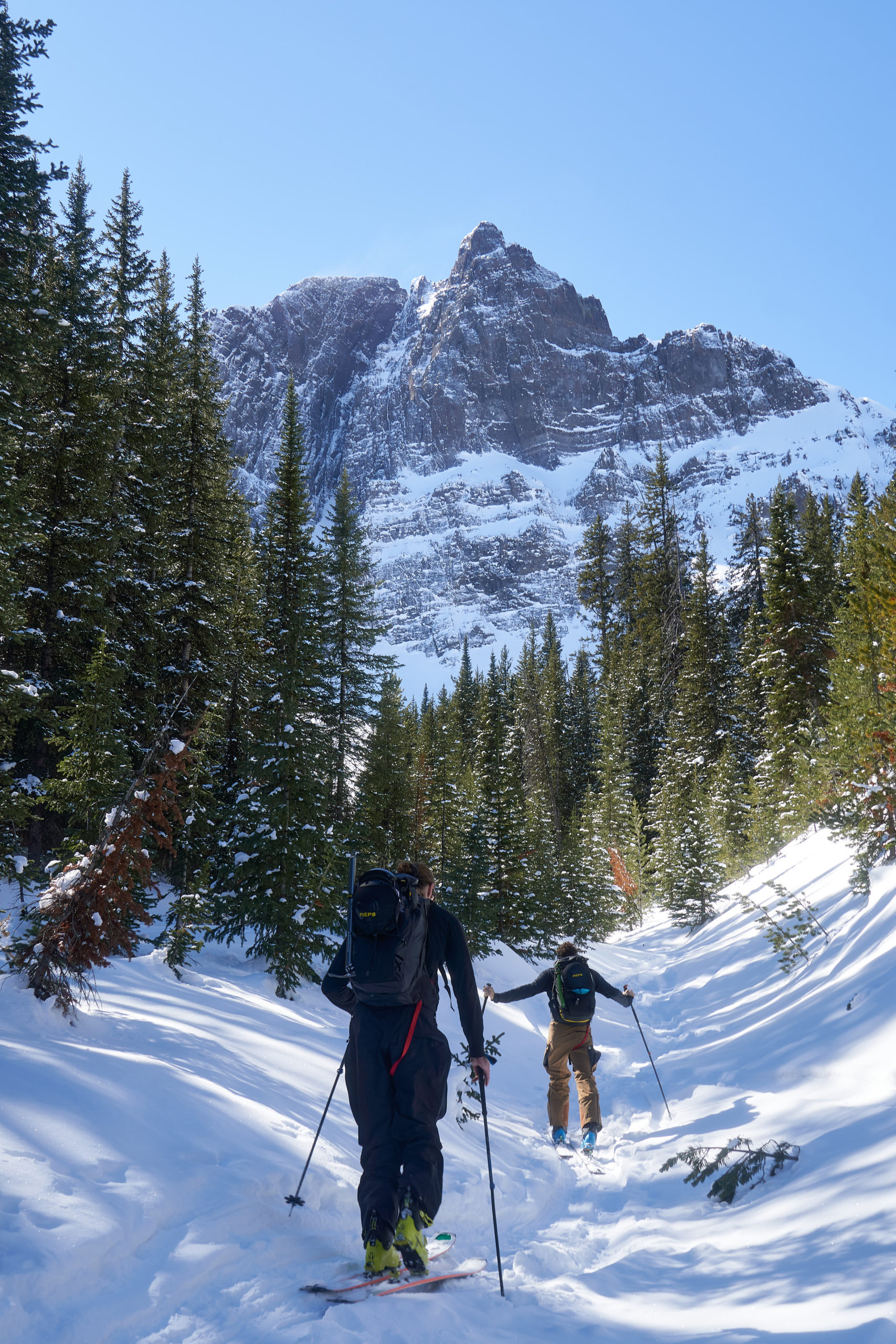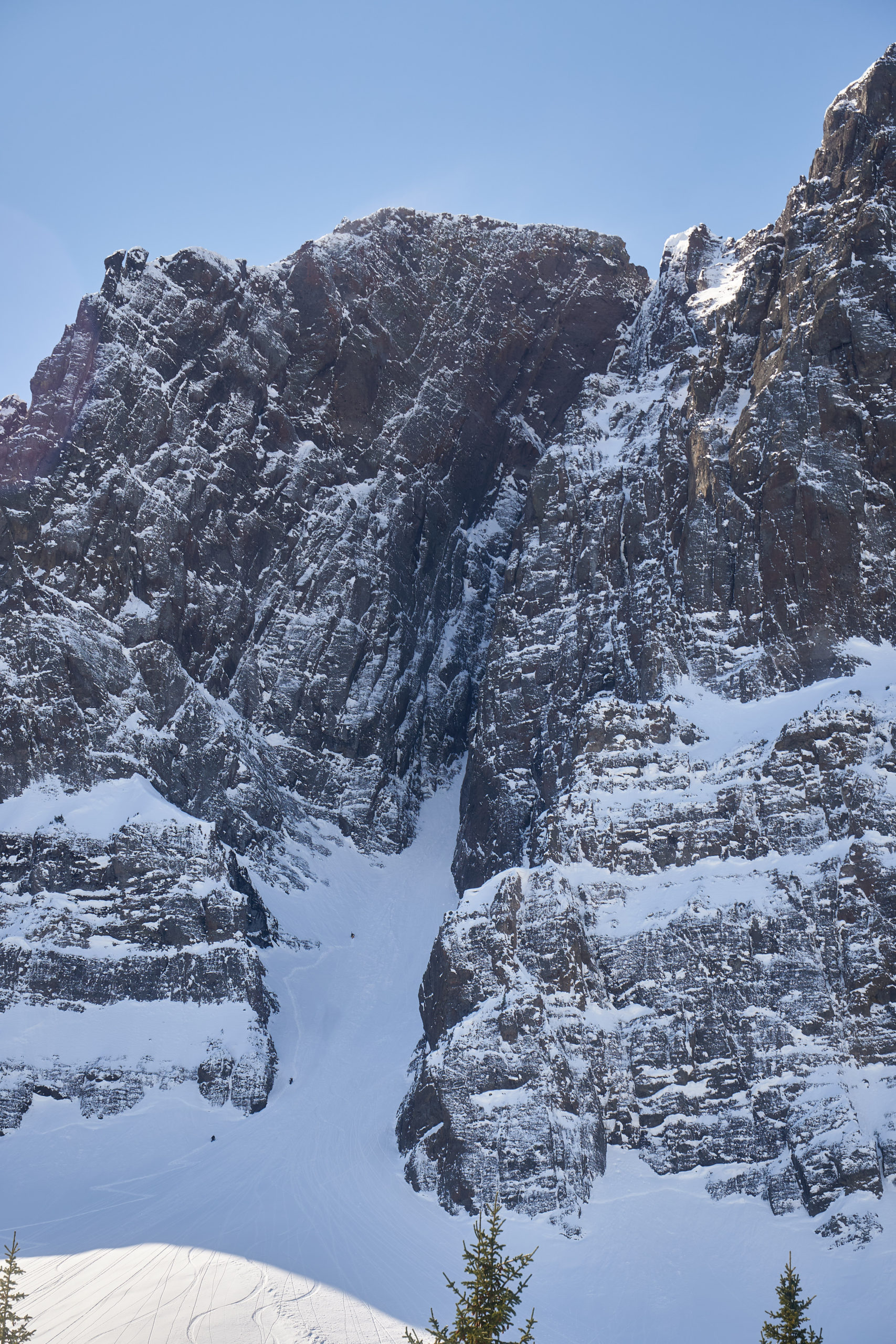 Another group of three had left the parking lot just behind us so we agreed we would let the group of three ahead ski the line and then all head up as a group of seven to avoid sending anything down on each other. We skinned up to the mouth of the couloir and tucked behind some rocks to wait. One of the group of three turned around early and soon rode past us as we cheered him on. The other two slowly worked their way upwards and, alerted by a steady stream of sluff sliding by, we peeked around the corner to watch them descend.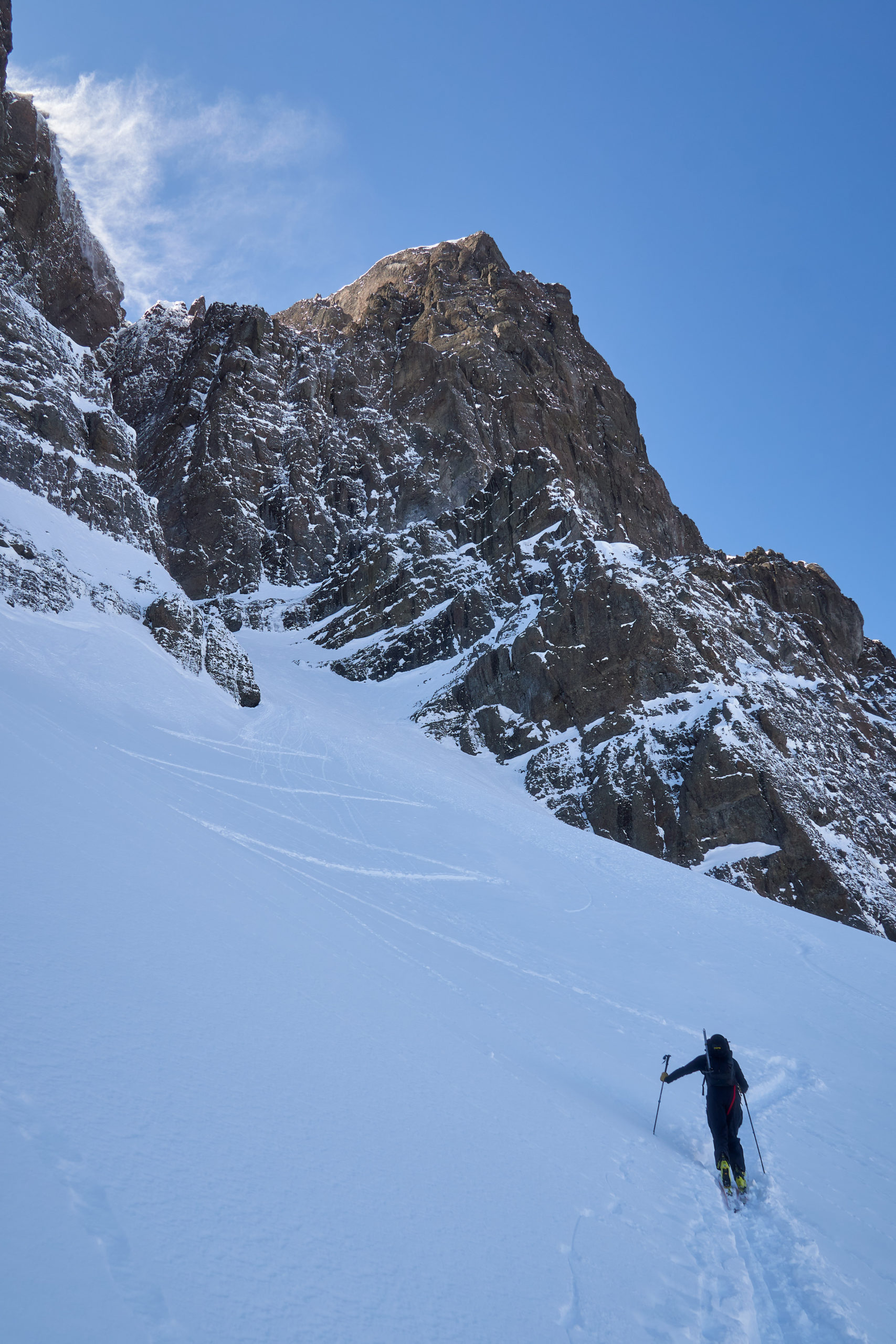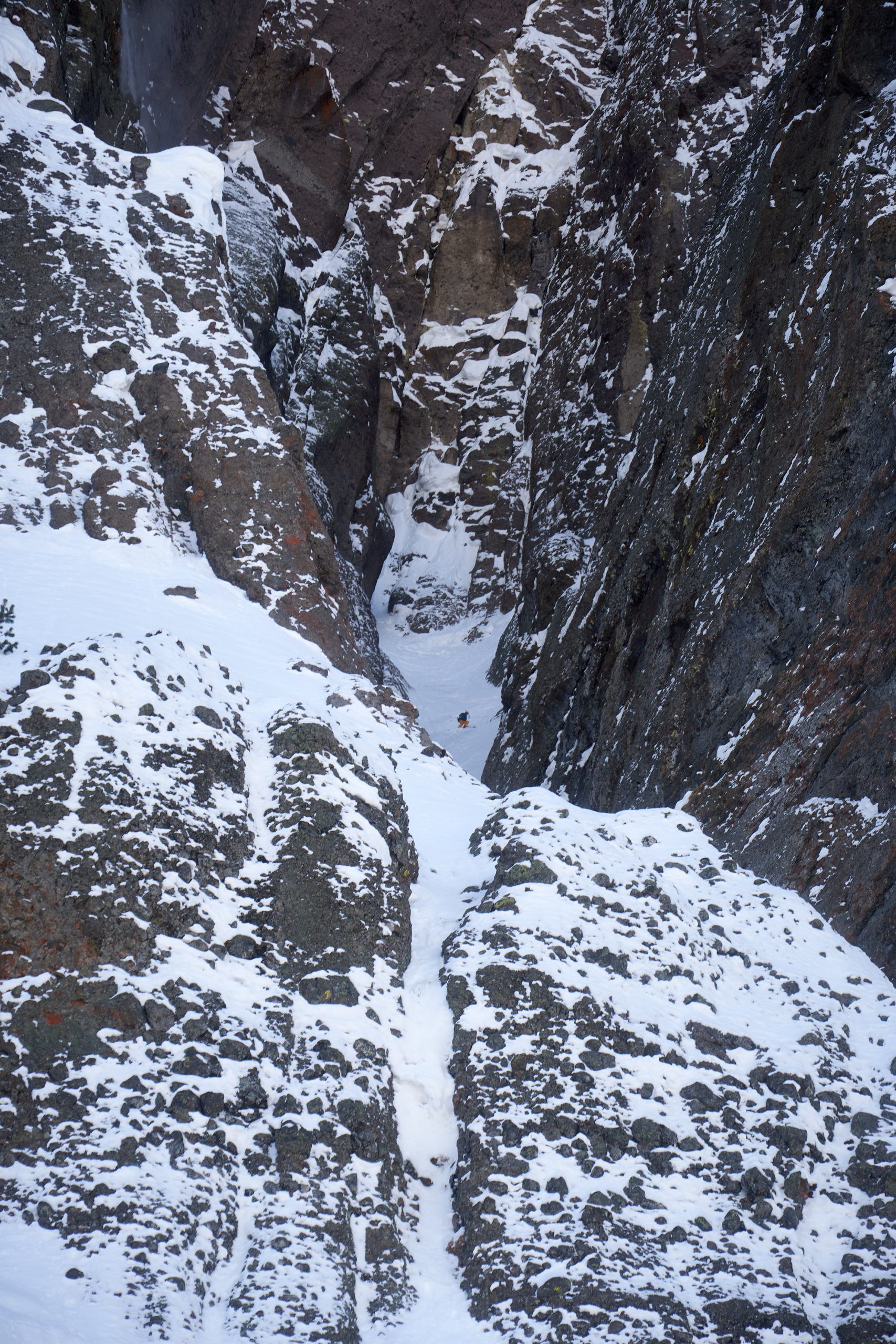 With the couloir now empty we began booting up. I took the lead and found variable but generally soft and chalky snow. The previous booter had been mostly sluffed in, so I wallowed up, breaking trail, fueled by by days of pent-up excitement. As the couloir narrowed, Cam decided he had gone high enough and dropped off the back to transition to skis. We watched as he picked his way down the initial turns, getting a feel for the snow, before opening it up on the soft apron below.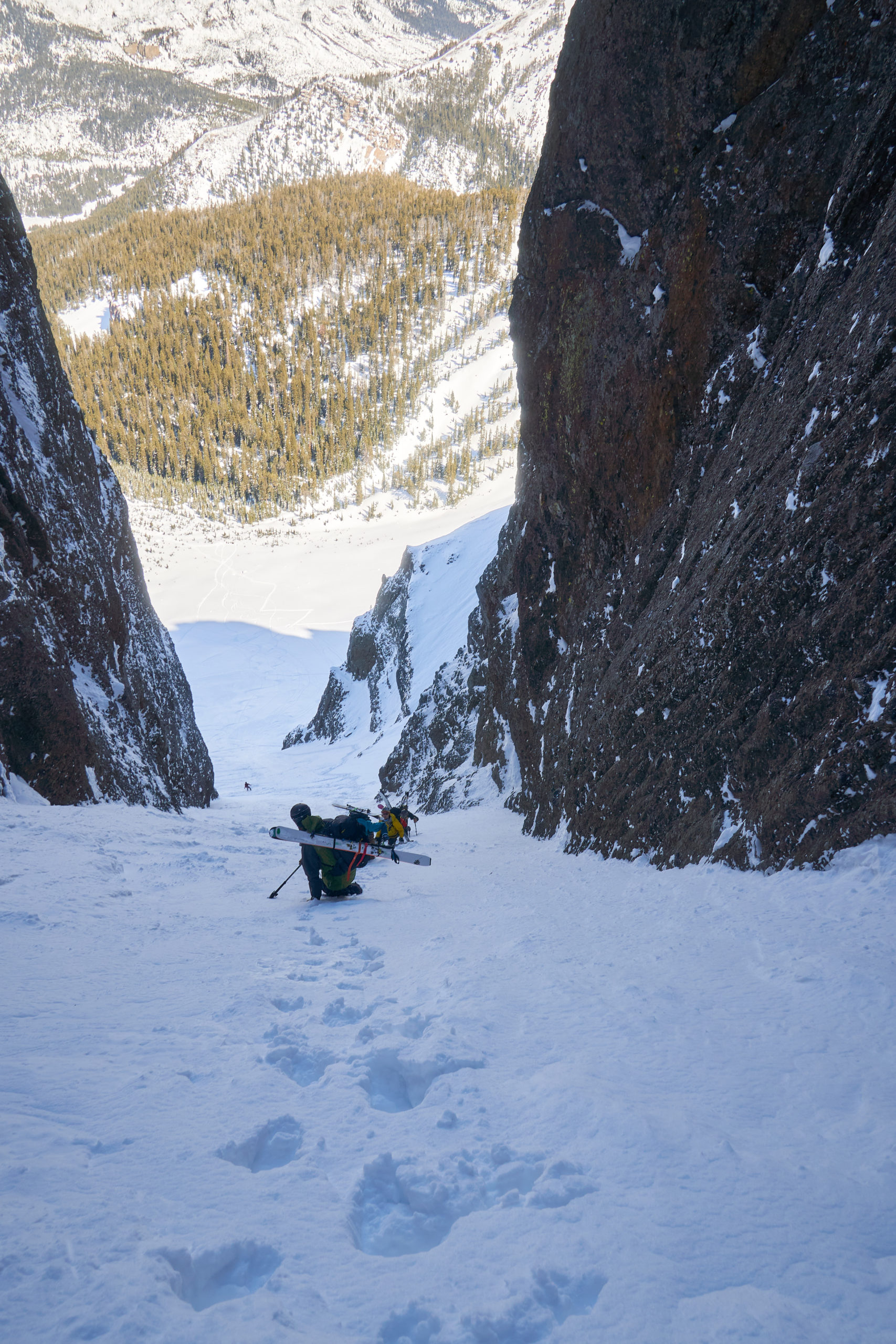 The rest of us continued upwards. The angle continued to steepen and the snow started to grow much firmer. The irregular tracks from previous descents were replaced with the clean-scraped marks of sidestepping and I began to feel the exposure. I passed one little dugout transition ledge but decided to push on a little bit higher, motivated to try to ski it from the top. About 30 feet from the top, the snow became firmer still, and when I started to have trouble planting my ice-ax I decided to call it. I down-climbed a couple feet to another small transition ledge and carefully slid my backpack off. The rest of our group soon joined me, and, after feeling the final bit of snow, decided to drop from where I was as well.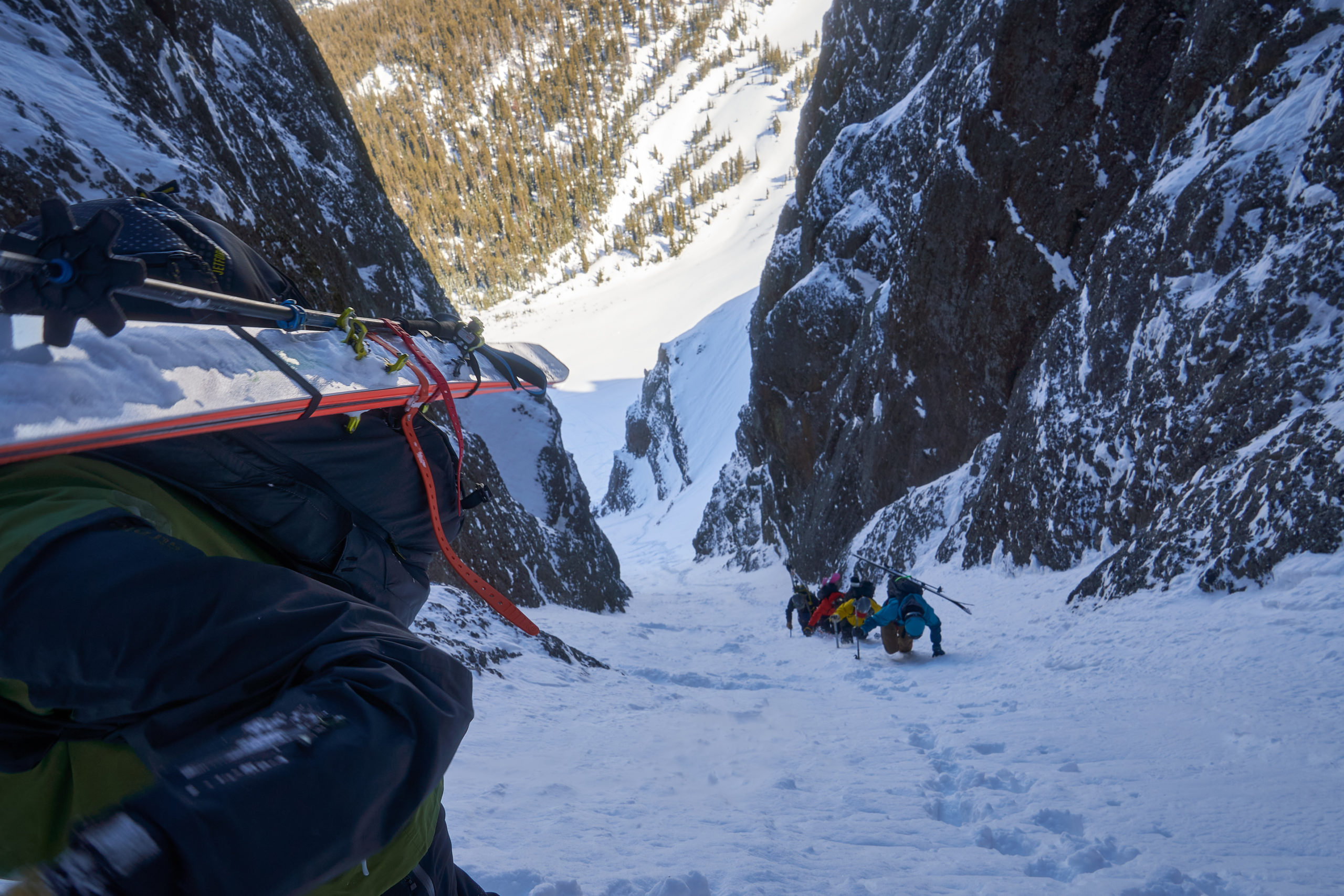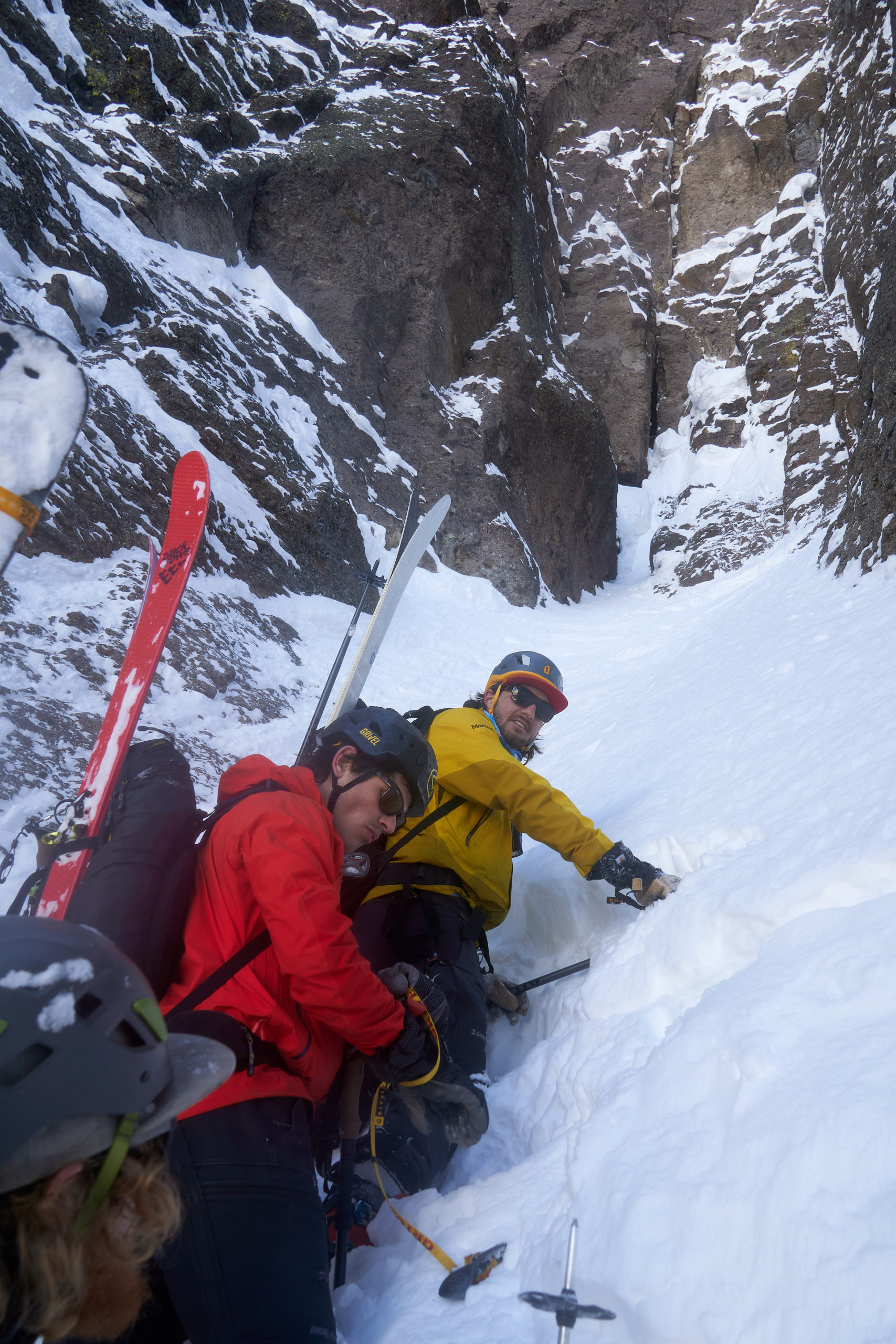 We measured the slope at 53 degrees, and it felt every bit of that. I set about the delicate dance of transitioning and soon had my skis on and was ready to drop. I tentatively shuffled off my ledge and onto the slope and was pleased to feel that the snow, if not soft up this high, was at least easily edge-able. Committing to the first turn is always a doozy, especially the first jump turn of the season, so I started sidestepping down, thankful I didn't go higher. After about 20 feet I passed a little choke in the rocks, took a deep breath, set my edges and jumped my skis around. The rough, chalky snow made for a tough landing, but my edges held and I began to make my way down the chute. The variable snow soon had my legs burning and I paused every few turns to catch my breath and let sluff clear out beneath me. As I got further down, the snow grew softer and more predictable and I was able to open up my turns as I worked my way towards the apron. The apron was soft, forgiving powder, and I savored my final few turns of the trip, beyond stoked to had checked off an area classic. I made my way down to Cam and enjoyed the sight of Joe and Brett safely navigating their way down the chute.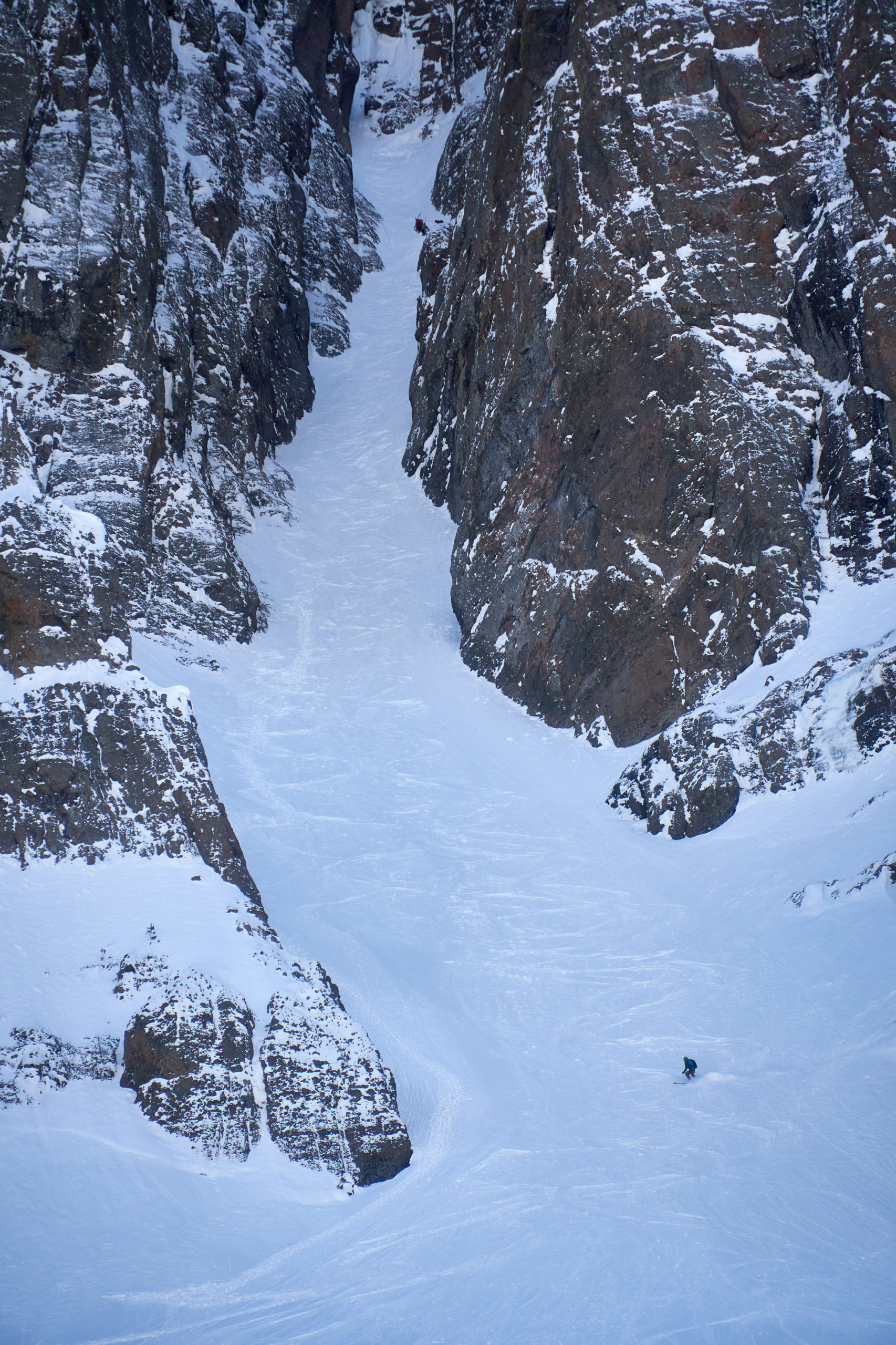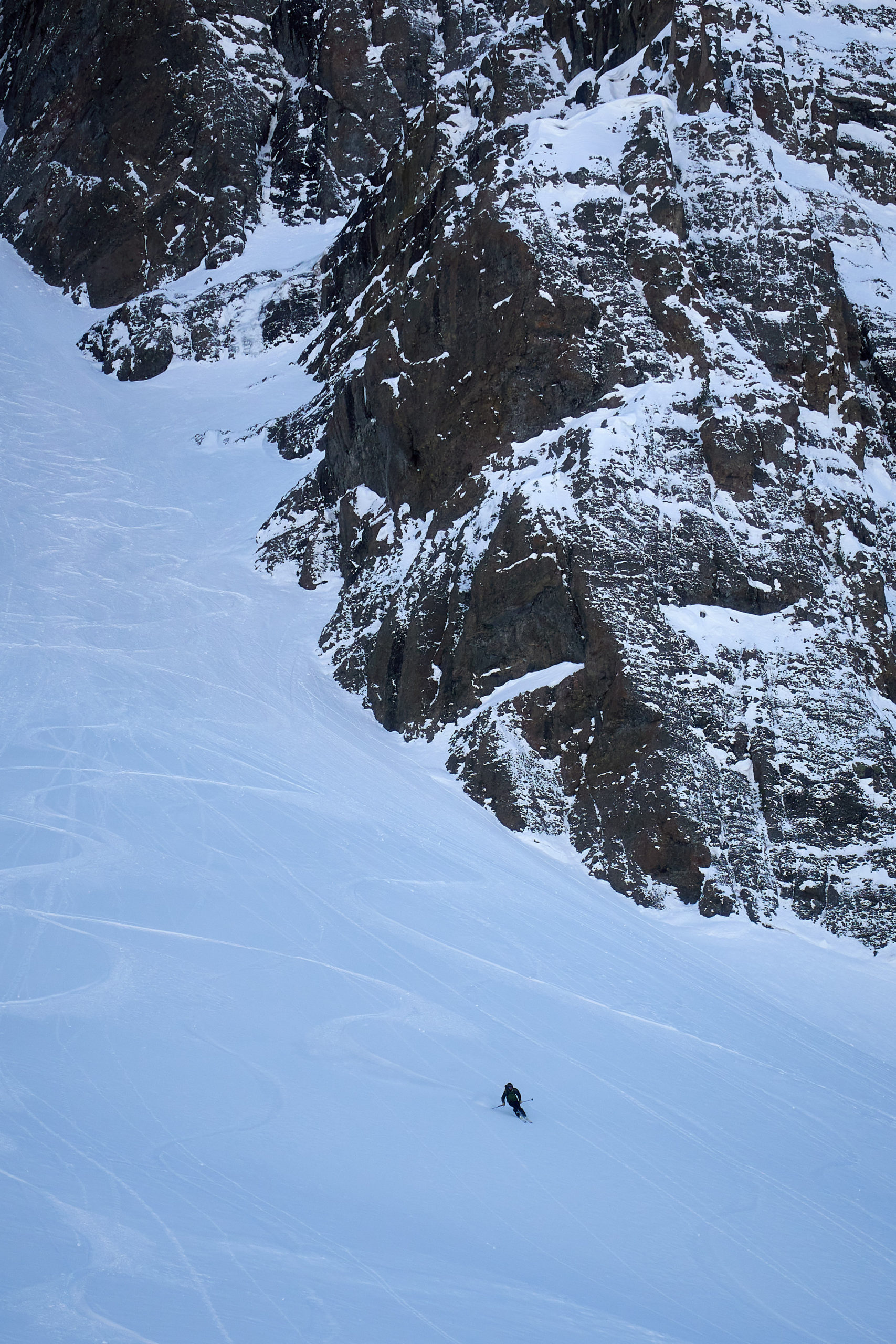 The ski back to the car involved lots of tight tree skiing on mushy rotten snow, but ended up going more smoothly than we had expected; no knees or skis were broken in the process.
Back at the car we savored the spring-like weather and chatted about what an incredible trip it had been. After day two, the snow had been nothing short of incredible, and it stayed that way all week long. We had sampled big open faces, long avy-paths, and now one of the most aesthetic chutes we had ever seen. Cooke City offers a near overwhelming amount of terrain and we sampled just a tiny fraction of it. But based on what I saw, I could easily see returning year after year.